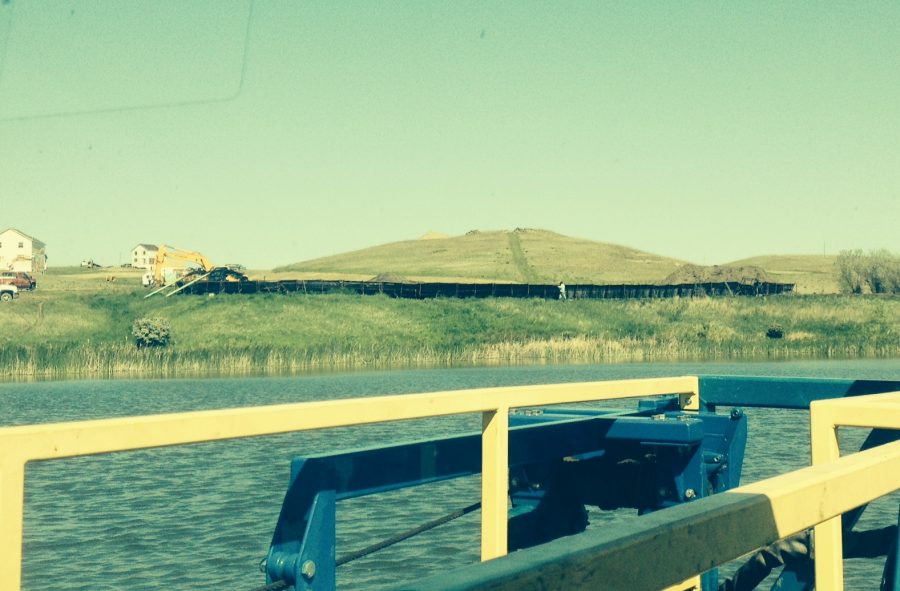 PROJECT: Removing high organic topsoil, sugar sand, and 5-85% bentonite (depending on location in the lake)
LOCATION: Arnegard Dam, ND
DREDGE: IMS Model 5012 HP Versi-Dredge
A contractor was engaged by the North Dakota Fish and Game Department to remove 40,000 cubic yards of sediment from the Arnegard Reservoir and demonstrate the GeoPool dewatering technology.
This was the first GeoPool with the bulk water release doors (patented Dump Doors), and tested a different type of geotechnical fabric. This new Geo-Pool design was used for 2 seasons at Arnegard Dam.
When the customer sampled Arnegard Dam, none of the contractor's samples indicated the presence of bentonite in any significant amounts, nor did the regulators bring it to their attention. The contractor decided to use a fabric with smaller pores and divided the pool into two smaller pools in an attempt to achieve greater overall size than the terrain otherwise allowed.
Even though they continued to work the two smaller Geo-Pools for the full season, they found that they had to change the fabric back to the larger pore size after the second fill. The Bentonite present in the local soils clogged the filters immediately, limiting production. To get the fabric to filter, they had to wait until the bentonite dropped out of suspension before activating the fabric with deck brushes. They also found that having smaller Geo-Pools wasn't appropriate as we had at the last minute, upgraded our dredge to an IMS 5012 HP which pumped much more material at a faster rate.
This overloaded the GeoPools' ability to dewater as it kept the slurry with the bentonite in suspension for a longer time.
To correct the issue at the beginning of the second season, they reconfigured the GeoPool into a single pool and added larger frame sections due to the lack of space to dewater and stockpile.
Their testing demonstrated that due to the energetic nature of the material as it is pumped into the pool, it needs time and distance to drop out of suspension and dewater at the necessary rate.  They also found that once active pumping had ceased, the material dropped out of suspension rapidly and they had massive amounts of clear water in the top layer of the pool. This took time to filter through the geotechnical fabric.
Polymers were not used on the project due to the material being spread over farm land.  Polymers would have speed up the dewatering process.  The first set of Dump Doors were used on this project to help release the massive amounts of clear water vs. waiting for it to run through the filter fabric which requires time and activation.